At first, knee and ankle protection may seem like overkill on a snowmobile, jetski, ATV, or UTV. After all, knee and ankle armor is for motorcycle racers – and it's not like you can travel at highway speeds on any of these powersports vehicles, right?
Wrong. It's common for today's more powerful ATVs, UTVs, snowmobiles, and jetskis to have top speeds of up to 80+ miles per hour. Whether or not you plan to attempt such speeds yourself, it's important to remember that loads of torquey power can get tricky to handle at any speed when you're bouncing across uneven trails, snow-covered hills, or choppy waves. Because these vehicles are pretty easy to topple off of, the potential for related knee and ankle injuries is high.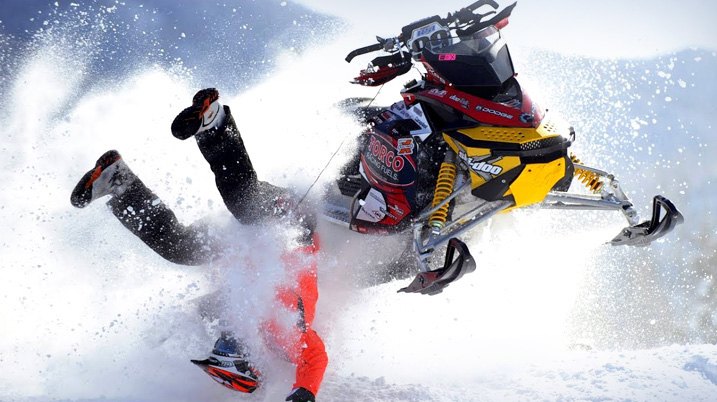 Looking at snowmobiles first, it's estimated that over 14,000 people experience injuries riding them every year in North America. One comprehensive study showed the most common injury (1 out of 10 cases) was a fracture of the tibia bone, which runs between the knee and ankle. Knees take a hard hit on snowmobile spills, as ligament tears and soft-tissue injuries to that area are more common than anywhere else on the body.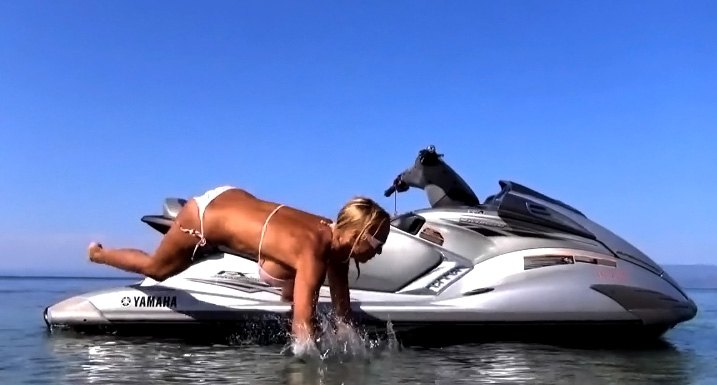 You may think you're safe from knee and ankle injuries when you're blasting across the water on a jetski. However, knee and ankle injuries are actually pretty common on jetskis when the rider encounters unexpected choppy waves while entering a turn. At this point, it's easy to slip and fall onto the jet ski – smashing a knee and/or ankle on the engine cover/hood, foot tray, or other unforgiving section of the fuselage.
ATVs may lull you into a false sense of security because they have 4 wheels and car-like independent suspension for keeping things stable on uneven terrain. But as often happens when jumps are made or an ATV is sliding across angled trails, the vehicle starts tipping over. The instinctive human reaction is to quickly extend a limb in order to break the fall. However, this is when many ankle injuries occur.
Because riders don't need to regularly support the weight of an ATV the way one does with a motorcycle, it's easy to underestimate how heavy these machines really are. So when one tips, many suddenly realize how hard it is to push firmly back against the ground without ankle or knee injuries occurring. As balance is lost, a foot or leg can even get caught by a spinning rear wheel – pulling the rider onto the ground and underneath the ATV.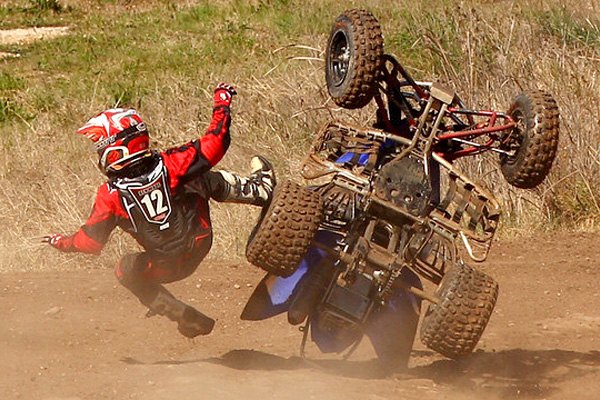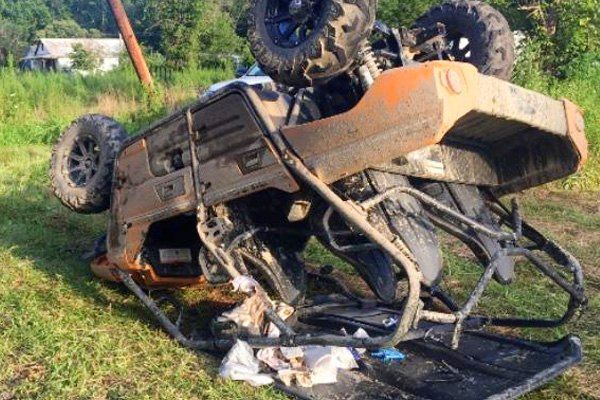 In a side-by-side UTV, driver and passengers are seated and belted in a car-like fashion underneath a roll cage. But while seatbelt harnesses keep your torso well-secured in a UTV, they don't protect knees and ankles from flying forward or sideways into unyielding metal during a hard bounce or collision with a tree, large rock, or other object.
In this article, we'll take a look at knee & ankle protection pieces created to protect you on any of the powersports vehicles referenced above. Because of their effectiveness preventing debilitating bone breakage, ligament tears, and muscle sprains, these braces and pads are well worth having.
Ankle Protection
Because feet have it tough on powersports vehicles, we'll start with soft ankle braces (known as "ankle stabilizers") designed to prevent your ankle joints from flexing, twisting, or extending beyond their normal range of movement where injuries occur. For protection of the ankles and feet against hard impacts, abrasions, or burns, we'll recommend reinforced riding boots.
Ankle Stabilizers
Ankle stabilizers surround the ankle on all sides with a tight wrap that provides strong support. This support serves to remove stress and load from ankle tendons and joints when everything's under pressure. More specifically, they do a great job of holding things together and preventing injuries when feet are supporting extra weight, performing athletic activities, or suffering minor trauma. In the unfortunate event you do take a tumble off your powersports vehicle, this support reduces the chances of injuries by preventing your foot from flexing or extending past its normal range of movement.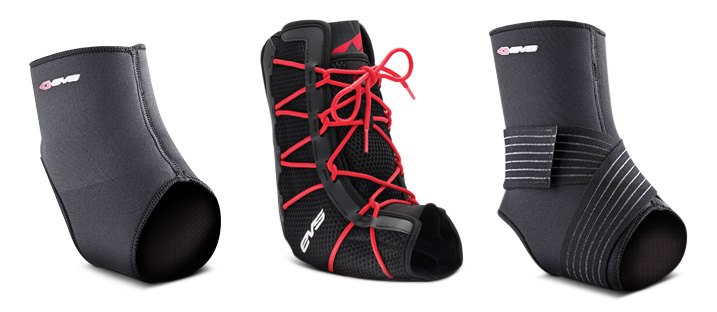 In fact, stabilizer braces like these are used to treat existing ankle injuries because they do such a great excellent job of holding injured ligaments in place so things can heal - instead of shifting around and being injured further.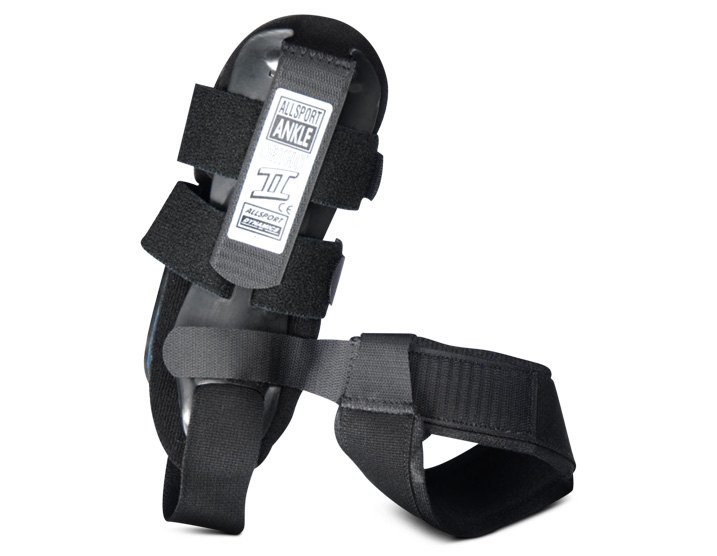 Ankle stabilizers we recommend include the EV Sports AS06 Ankle Stabilizer, AS14 Ankle Stabilizer, AB06 Ankle Stabilizer, Allsports Dynamics Defender Ankle Support, and the Allsport Dynamics Ortho II Ankle Support. These are constructed of sturdy synthetic rubber and foam material which is comfortable to wear and highly breathable. Tightness can be adjusted to your own personal preferences.
Reinforced Riding Boots
As we mentioned earlier, ankle stabilizers do not provide a hard shell barrier of protection from outside knocks. That's why we have a huge variety of boot styles in our Boots & Footwear section. These boots, particularly off-road boots, use adjustable straps, buckles, and zippers rather than laces that can get snagged in moving parts. Flexible armor pieces, thicker materials, and beefed up soles provide serious impact protection for your shins, toes, feet, and ankles.

Should a foot become pinned underneath hot exhaust pipes, these reinforced boots won't lose their integrity when subject to high heat levels – plus you'll be well protected against burns. And when you do need to put a foot down to stabilize yourself, stronger-than-average soles can handle this exact type of pressure.
As far as looks go, we've got touring boots of varying heights that are more conservatively styled. We've got off-road boots with stronger straps, thicker leather, shin protection, and other shielding pieces that block impacts and high heat, and we've got snowmobile boots that make getting deep in the powder fun thanks to grippy treads and warm liners. And for blasting around in the water, we've got tailored watercraft shoes.
Knee Protection
Knee braces and knee pads greatly reduce the chance of three major types of knee injuries which commonly affect powersports riders. The first injury is hyperextension and improper rotation of the anterior cruciate ligament (ACL), which stabilizes the knee and keeps shin and thigh bones in proper alignment. The second injury is of dual additional meniscus muscles between the thigh and shin that tear if the knee is hyperextended during a crash.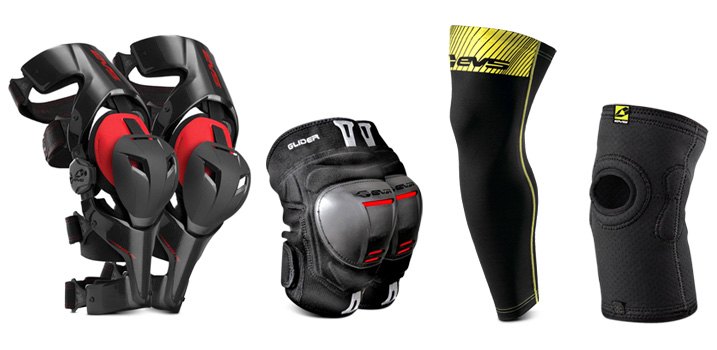 The third most common powersports knee injury is to the medial collateral ligament (MCL) which provides stability to the inner side of the knee so that unwanted wobbling and twisting doesn't occur. Other common knee injuries include fractures, dislocated kneecaps, and ruptured tendons.
Knee Braces
Knee braces contain hard, rigid pieces (typically constructed from polymers, fiberglass, or carbon fiber) which are contoured to the knee and leg area. Typically, their coverage area spans from 6 inches above the kneecap to 6 inches below it. The upside of knee braces is they offer the best protection against injuries from impacts as well as ligament tears and pulls. The downside of hard braces is they tend to be a little more restrictive when it comes to freedom of movement.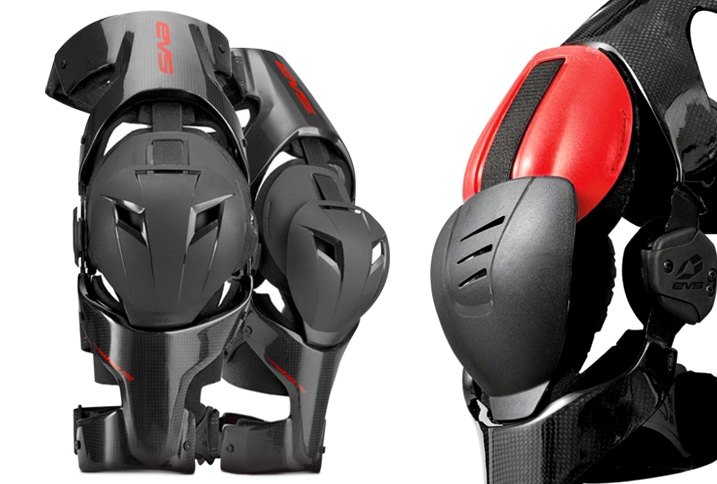 When it comes to braces we recommend, we'll start with a best value – the EVS Sports RS9 Knee Brace System. With sturdy polymer construction, it's got knee cups that adjust their position automatically, buckles that adjust and release quickly, and corrosion-free aluminum hardware.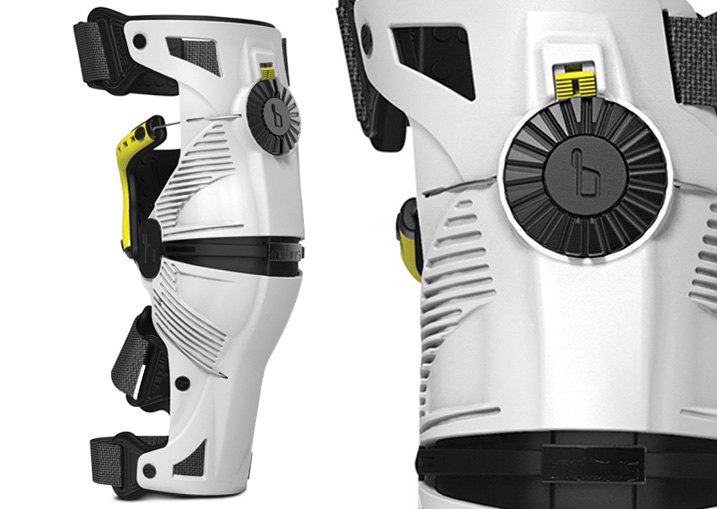 For those that prefer lower weight, check out POD's fiberglass K1 Composite Knee Brace and K4 Premium Advanced Knee Brace. If you'd like a brace with panels that surround the knee area more completely, there's the Mobius fiberglass X8 Knee Brace with a large, easy-to-use dial that regulates the adjustable snugness.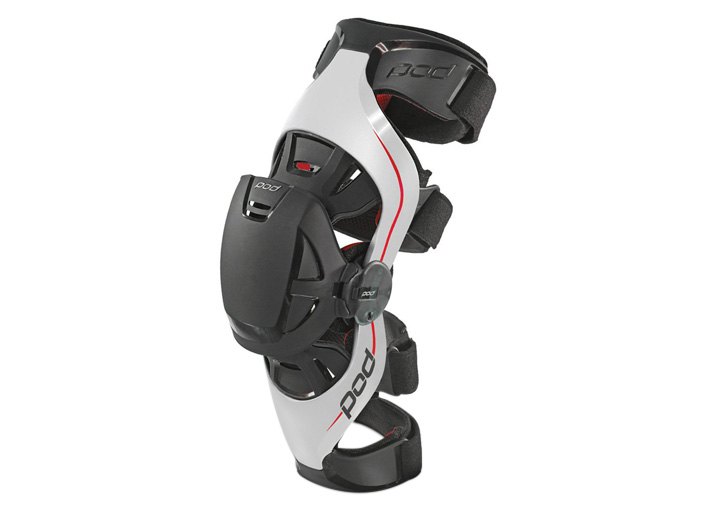 For the ultimate in light weight and strength, we've got several carbon fiber knee braces from EVS Sports. These offer the bonus of dual sliding knee cuffs that move interactively with your leg – providing greater protection throughout a wider range of knee and leg positions. Choose EVS's Axis Pro Knee Protection System with aluminum frame fused to a carbon fiber upper cuff, or their Web Pro Knee Brace System that uses more carbon fiber in its construction.
Knee Pads
Knee pads give the wearer more flexibility along with fewer restrictions on knee movement. However, they do provide less protection than knee braces. Pads make an excellent choice for UTVs where occupants are strapped in and unlikely to fall out of the vehicle in a rollover.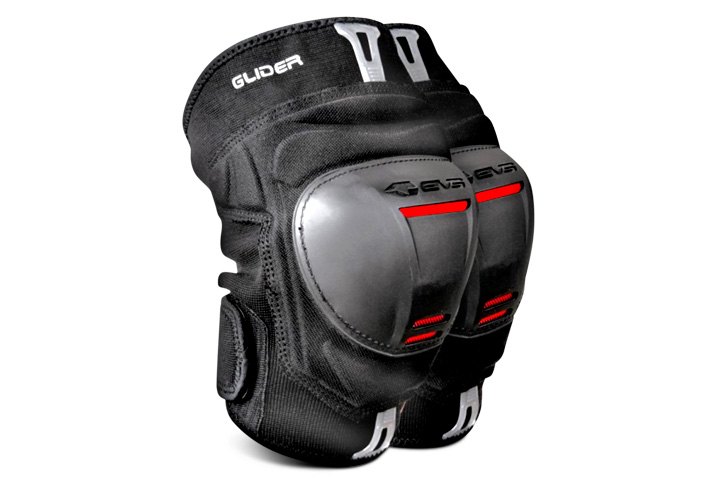 Center kneecap pads may be constructed of soft foam, or they may be slightly denser and less flexible (without being hard and rigid). Either way, protective materials will typically extend only several inches above and below the kneecap.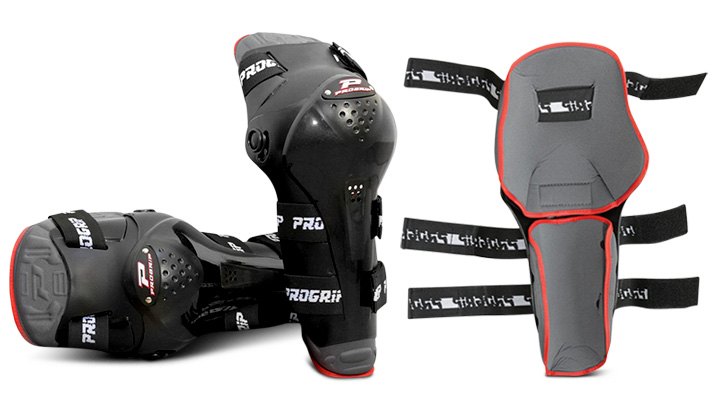 If your preference runs to softer knee pads with a fair degree of coverage, take a look at the Dianese E1 Protective Kit as well as the TP199 Lite Knee Pad & Glider Lite Knee Guards from EVS Sports. And for even more coverage, check out the Pro Grip Knee Guard and EVS Sports Epic Knee Pad.
Knee Sleeves & Stabilizers
Knee sleeves are compression leggings meant to be worn underneath other clothing, knee pads, or braces. They provide support for the muscles and ligaments around the knee while gently squeezing blood vessels to improve circulation. This effectively reduces muscle fatigue by increasing the natural supply of fresh blood, oxygen and nutrients while removing built-up toxins.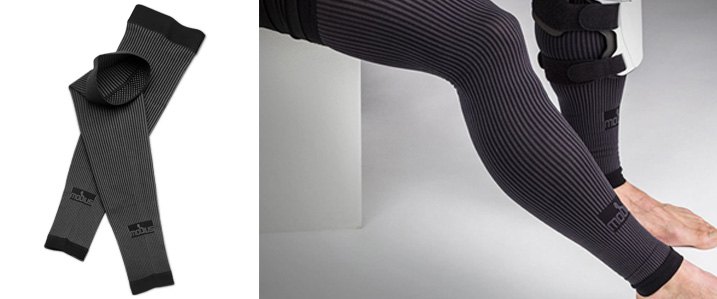 For some great choices when it comes to knee sleeves, check out our recommended offerings from POD, EVS Sports, and Mobius which are available in multiple sizes.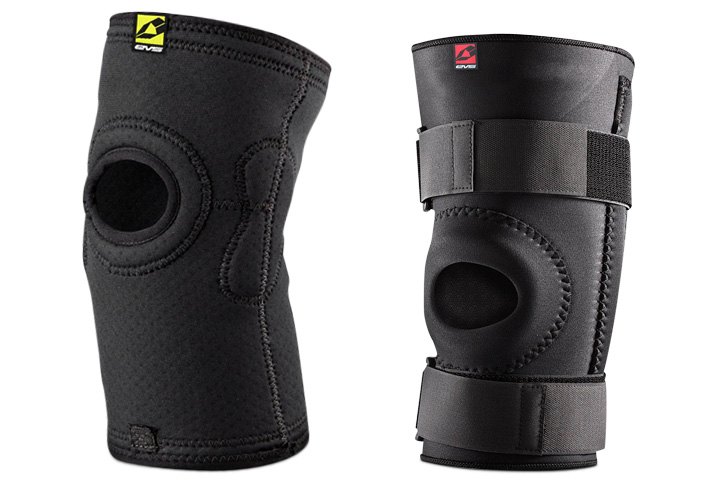 If full-length knee sleeves are a little too much material for your comfort level, we've also got soft, supportive knee stabilizers that perform the same supportive function for knee ligaments, but extend only a few inches above and below the kneecap. Check out the EVS Sports KS21 Knee Support for best value along with their higher-tension KS199 Knee Support and KS61 Knee Stabilizer.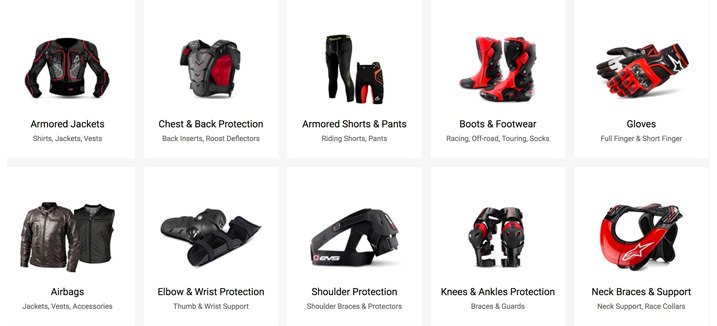 To continue your education on powersports gear, we invite you to read other articles on our website regarding helmet styles, materials, certifications, accessories, and more. And if you have any questions, we'll be happy to answer your calls seven days a week!
July 16, 2019