Here, we examine how you can easily clean, condition, and waterproof the materials that your favorite powersports snow jackets, off-road pants, boots, armored gloves, and other items are made of using specially-formulated products found in our Riding Gear Chemicals section.
You'll see how a couple of quick, easy steps will not only make your clothes look and feel better because they're cleaner, it will give them the ability to repel water so they actually stay dry and protected. You invested good money in your riding gear – and for pennies on the dollar, our care products truly will allow them to look great and last for a long time!
Durable Water Repellency – And Why It's Important
"Durable water repellency" refers to a garment's ability to repel water so it beads on top of the fabric instead of soaking into it. This occurs thanks to a thin layer of specialized chemicals known as durable water repellents (DWRs) that are applied to the surface itself. Once the DWR coating dries, it serves as a protective shield that blocks water and grime from passing.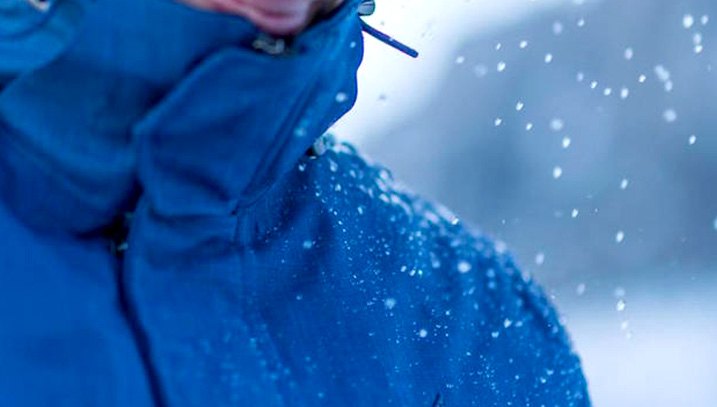 Some, but not all, outerwear garments are treated with DWRs when they're manufactured. Unfortunately, any DWR coating is going to lose effectiveness over time. It wears off as the garment moves around, and as it brushes against things. As the coating diminishes, dirt and grime work their way into the fabric. It's that dirt and grime which draw water into the fabric, causing it to "wet out" and become waterlogged and soggy. As you might imagine, this can have a detrimental effect on some materials - especially leather.
To prevent this, water repellency treatments must be re-applied periodically to ensure your fabrics, leathers, and other apparel items stay protected. This can done with easy spray-on or wash-in DWR treatments we offer. But first, a thorough cleaning of the fabric must be done in order to pull gunk and stains out of material pores. Skip this step, and you end up with a bigger mess - trust us.
Cleaning & Caring For Fabrics
Water Repellency Treatments Designed for the Washing Machine
For clothes that can be machine washed, we've got a two-stage cleaning and DWR-rejuvenation treatment that's applied automatically during two separate washing machine cycles.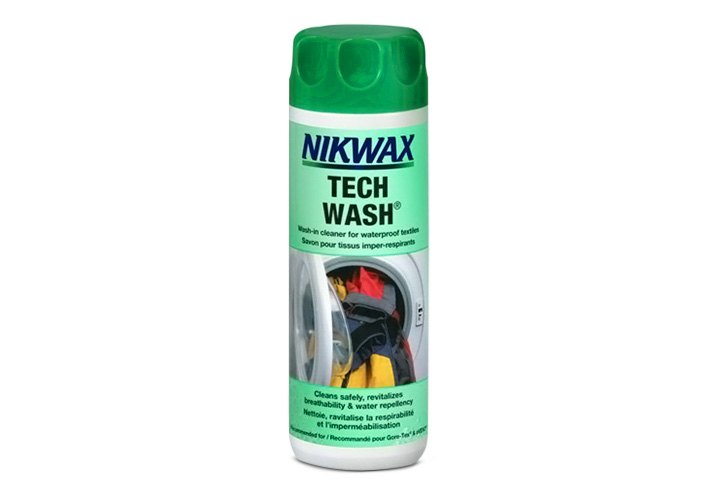 On the first wash cycle, NikWax's Tech Wash detergent gets into pores to thoroughly lift out dirt. In a second and separate wash cycle, NikWax's TX.Direct Wash-In then coats all cleaned surfaces with water repellency chemicals.
Spray-On Water Repellency Treatments
When you've got your gear and clothes cleaned up, sometimes applying water repellent by hand with a spray-on container is the most effective way to reach areas that really need it. Plus, you can avoid unwanted application on other areas that don't. For such needs, we've got Revivex Durable Spray Water Repellent and Nikwax TX.Direct Spray-On.
Leather Gloves + Other Items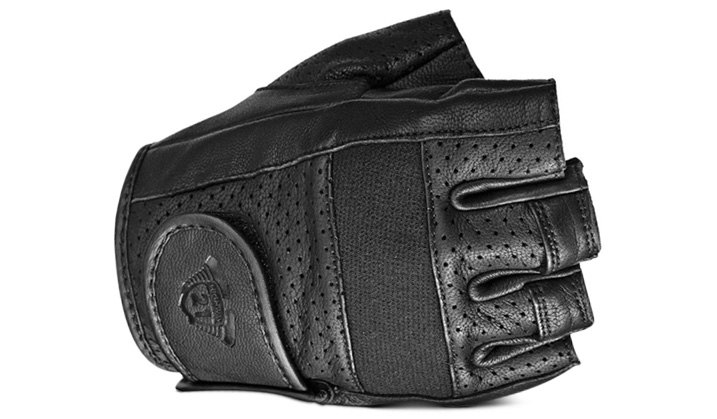 For those with riding gloves or other gear made partially or completely out of leather, we've got you covered. First, clean surfaces thoroughly with Nikwax hand-application Leather Cleaner to remove any caked-on and ground-in grime. Then, apply Nikwax Leather Restorer to replenish lost tanning agents and boost water repellency. And if you've got gloves made of other knitted fabrics, Nikwax's Glove Proof is designed to restore water repellency on fabrics without clogging up pores.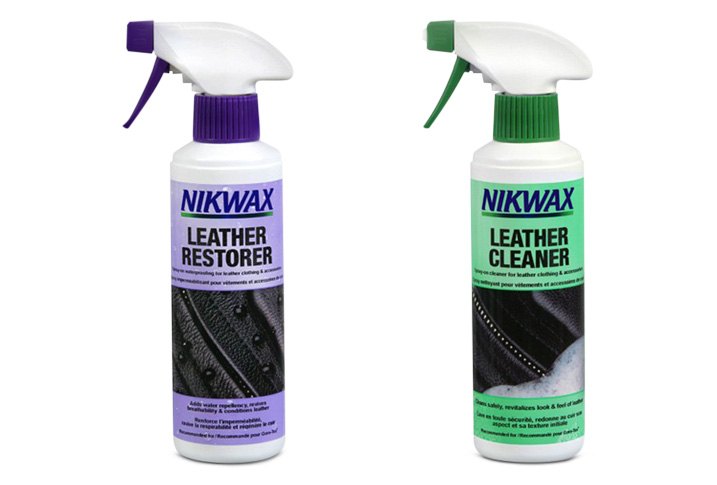 Don't underestimate the need for taking both of the above steps when it comes to anything made of leather. Gradually, leather loses natural lubricants and tanning agents that keep things soft. Replenish these, and your leather items stay feeling nice and supple to the touch. Otherwise, leather eventually dries out and cracks.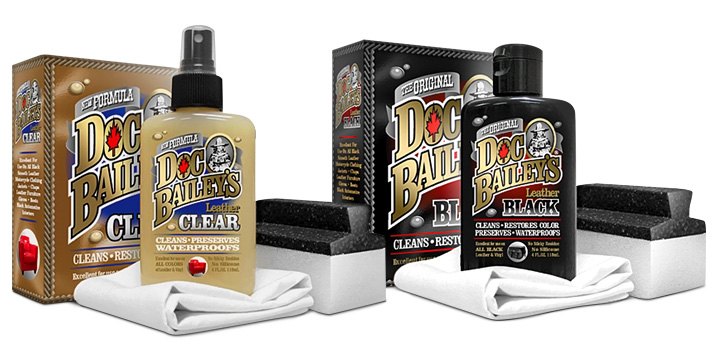 We've also got two complete leather cleaning and conditioning kits from Doc Bailey's. For standard leather products of any color, there's the Original Leather Clear Kit. For black leather items, the Original Leather Black Detail Kit is blended to fill and hide small imperfections while darkening the leather with a supple-looking shine that makes everything look years newer.

We've also got several kits made by Dainese for special types of leather - both of which include a gentle cleaner, conditioning cream, soft cleaning cloth, and sponge applicator. The Vintage Kit is for "pull-up" leather that's finished with clear oils and waxes for a very soft feel, then stretched to create color pattern variations. Note that the conditioner is not recommended for normal leather or "nubuck" leather. For nubuck type leather which has characteristics similar to suede, we recommend the Dainese Nubuck Cleaning Kit.

Material Repair
Leather and vinyl gloves take a pounding during powersports activities, and there's lots of ways they can develop cuts, scratches, and gouges. To heal these wounds and prevent them from worsening in normal use, there's the Doc Bailey's Original Leather Restoration Re-Dye & Repair-A-Tear Kit. With only a few basic steps, you can fill and cover up scars, smooth things out, then re-dye surface areas so things look uniform. Being prudent and making your old gloves last with this kit is a lot less expensive than buying new ones!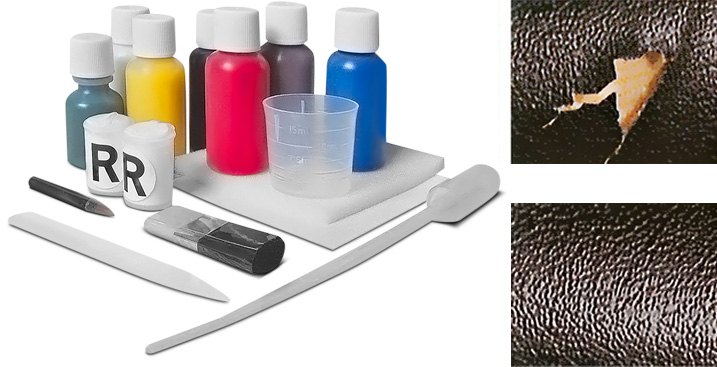 If your other riding gear garments have developed rips or splits, there's no need to deal with the cold and rain they let in. Instead, we've got flexible fabric patches that go on easily and securely thanks to adhesive backing. With a peel-and-stick design, Revivex's Tenacious Tape Gore-Tex Fabric Patches kit patches can be trimmed as needed to mend any holes in clothing, camping gear, duffle bags, convertible tops, and much more!

To continue your education on powersports items, we invite you to read other articles on our website regarding helmet styles, materials, certifications, accessories, and more. And if you have any questions, we'll be happy to answer your calls seven days a week!

July 03, 2019